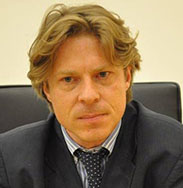 This full presentation
is not available
Grottaglie Test Bed
Giuseppe Acierno
Sole director of Aeroporti di Puglia, a network of four airports
President of the Aerospace Technological District Scarl (Limited liability consortium society)
President of the Apulian Aerospace Productive District
Grottaglie Airport Test Bed was conceived with the aim of realizing Centers of Excellence for the development of knowledge, services and applications for aerospace. The most significant  areas of interest are:
development of an integrated local production supply chain (from design to aircrafts' disposal)
development of activities of simulation and systems' testing
development of training activities
development of solutions for intermodal transport
development of products and solutions for territory observation and management
All these points are all integrated in a management system for business models and data from an Extended Enterprise perspective.
The chance to  have and/or develop models, environments and applications operative in the field of numerical simulation is appreciated as a remarkable support and added value; the participation of specialists is considered really significant to give new efficient and effective answers, both for the services distributed to the Test Bed clients and for their support to the development of new CAE solutions for the market.
Curriculum
2012 – 2013: President of the National Aerospace Technological Cluster
2011 – 2013: Member of the Regional Committee for the monitoring of the economic and productive system of the crisis areas established by the Regional law – Apulia n. 7/42
2011 -2013: Member of the Council for policies of the Foundation "ITS Aerospazio Puglia" (Technical High Institute for Apulian Aerospace)
2008 – 2011: Executive for the "Cittadella della Ricerca Scpa" – (Consortium joint-stock company) as person responsible for development and external relations
2004 – 2008: Senior Civil Servant for the Provincial Authority of Brindisi as Chief of Staff
2008: Executive for the Provincial Police of Brindisi
2008 – 2009: Board Member of IPRES – (Apulian Institute for Economic and Social Research)
2004 – 2008: Collaborator for URPP (Regional Union of the Apulian Provinces)
2007 – 2008: Member of the Strategic and Control Committee for the project "Arianna" at the University of Bari – Adjustment of the system of professional training of education and advanced training
2007 – 2008: President "CTS For Fly" – human resources training for the aerospace industrial settlement Alenia in Grottaglie
2005 – 2008: Member of the Technical Committee of Apulia Region, framework agreement Apulia Region - Finmeccanica
2006: Secretary of the Chairmanship for the Permanent Consultation Committee among the Presidents of the Provinces of Brindisi,  Lecce and Taranto
2001 – 2004: Person Responsible for the external relations – presidency assistant – general affairs responsible for Pastis CNRSM (Science and Technology Park of Ionic and Salento Area - National Research Centre on Materials)
1997 – 2003: Researcher (systems and process analyst) for Pastis CNRSM